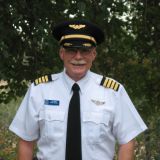 David Bartel
| | |
| --- | --- |
| Member since | |
| Last seen online | |
| Pilot certificate | Private |
| Language | English (USA) |
Submitted
"Flight Deck Automation: A Call for Context-Aware Logic to Improve Safety," the authors describe prototype designs that could mitigate errors leading to accidents and incidences such as the A330 Air France Flight 447 crash in 2009 and the airport overfly of Northwest 188 that same year. (
www.hfes.org
)
More...
Submitted
North Pole Village Jeppesen Approach plate, Santa's Workshop INTL :-) (
www.pmlaa.org
)
More...
Submitted
Motion Induced Blindness Pilots are taught to alternate their gaze between scanning the horizon and scanning their instrument panel, and never to fix their gaze for more than a couple of seconds. We are taught to continually keep our heads on a swivel and our eyes always moving. If you fix your gaze on one object long enough while you yourself are in motion, your peripheral vision goes blind. Just click on the link below for a small demonstration of motion induced blindness. You will see a… (
www.msf-usa.org
)
More...
Submitted
The 146TH Airlift Wing making retardant drops on a rapidly increasing wildfire in Southern Tuolumne County California. Great cockpit video with audio! (Ed: See comments for additional parts of the video.) (
www.youtube.com
)
More...
Did you know that FlightAware flight tracking is supported by advertising?
You can help us keep FlightAware free by allowing ads from FlightAware.com. We work hard to keep our advertising relevant and unobtrusive to create a great experience. It's quick and easy to
whitelist ads
on FlightAware or please consider our
premium accounts
.