FlightAware Custom Reports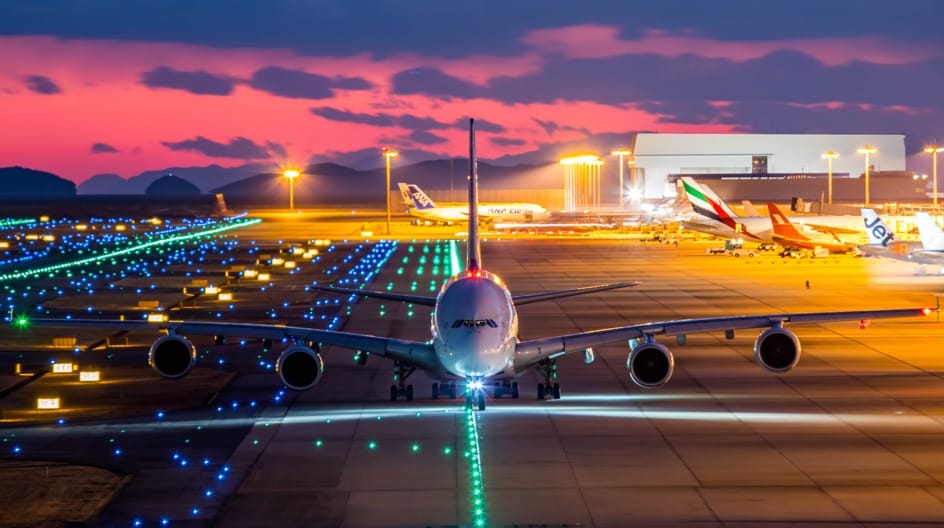 Powerful flight tracking data for any project scope or size
Insight from over half a trillion flight records
FlightAware's data has helped solve unique and complex challenges for over a decade. Our talented analysts work with businesses touching every facet of aviation as well as governments from all around the world.
Our approach to custom data reports means we take the time to understand your needs and leverage our industry expertise to deliver the most impactful information possible.
Thousands of data sources from around the world

25 years of historical data

100% truly global coverage with insight into aircraft activities on the ground as well as in the air
Popular options for custom reports include:
Aggregates and Summaries
Create statistics and aggregate data including aircraft cycles and flight hours rather than individual flight records.
Aircraft Types
Analyze trends for a specific aircraft type. Use this data to observe the growth, flying trends, and other information about a specific aircraft type.
Track Logs
Analyze minute-by-minute positions that include latitude, longitude, ground speed, altitude, climb/descent rate and heading for flights.
Global Flight Data
Get flight records from anywhere in the world, with zero coverage gaps.
Any Time Range
Get data for specific dates, months, or any other time frame.
Weather
Get historical observation in raw, translated and human-readable forms.
Ground Activity
Get full insight from the moment an aircraft powers on at its origin to when the pilot turns off the avionics at its destination. With ground activity data, you can analyze FBO volume, taxi times and much more.
Airline Data
View flight numbers, tail numbers, scheduled and actual departure and arrival time, departure and arrival gate and concourse, cancellations for airlines, operational statistics, available seat mile (ASM) counts and more. FlightAware covers scheduled airline operations worldwide.
Special Flights
See data for humanitarian flights such as lifeguard, air ambulances and angel flights.
Aircraft, Flight or Fleet Histories
View historical flight records for specific tails, flight numbers, or for an entire fleet.
Owner Information
Include details about aircraft registration such as owner and operator information.
And more!
Contact us today to start building your custom report.
Convenient, Easy-to-Use Format
Reports are delivered in standard formats such as TSV (tab separated values) or CSV (comma separated values) format that can be easily opened with Microsoft Excel, Microsoft Access, or a similar spreadsheet or database application.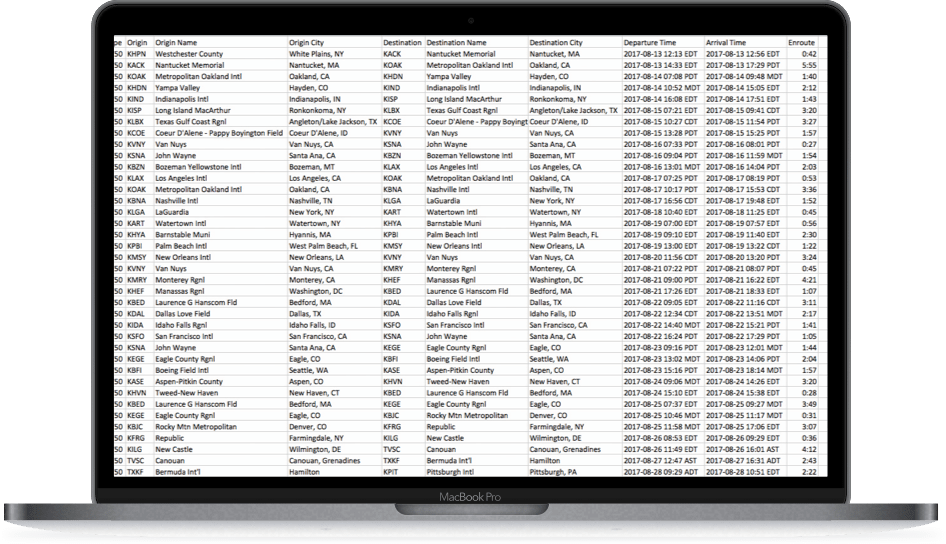 Did you know that FlightAware flight tracking is supported by advertising?
You can help us keep FlightAware free by allowing ads from FlightAware.com. We work hard to keep our advertising relevant and unobtrusive to create a great experience. It's quick and easy to
whitelist ads
on FlightAware or please consider our
premium accounts
.